Bikes made more recently can be found in all types of materials, including steel, aluminum, carbon fiber, and titanium. Most contemporary bikes are built using the threadless headset system and tend to follow a standardized set of measurements for their components, so swapping parts is a little easier than with older bikes. Horizontal dropouts have largely been fazed out in favor of vertical dropouts, decreasing the chance of an accident due to
improper Quick Release usage
. The types of bikes have also diversified, as bikes have been made to fit into more specialized niches.
Note: These descriptions are meant to describe the typical setup of each bicycle type. Some bicycles may not fit into any one category, or may not show the key characteristics listed.
Racing Road Bike
Modern racing bikes have come a long way from their noble predecessors. Nearly all race bikes these days are made of a material other than steel and their frames include a compact design with a slanted top tube. They are equipped with double the amount of gears than their ancestors while weighing in at half as much. After buying one of these bikes, be careful or you may find yourself shaving your legs rigorously and blood doping.
Key characteristics:
drop style handlebars
aggressive frame geometry
shifters integrated with brakes
skinny tires on 700C wheels
threadless headset
carbon or aluminum construction
7 to 11 cogs in the cassette
usually a hefty price tag due to aerospace engineering
130mm rear hub spacing
Sport Road Bike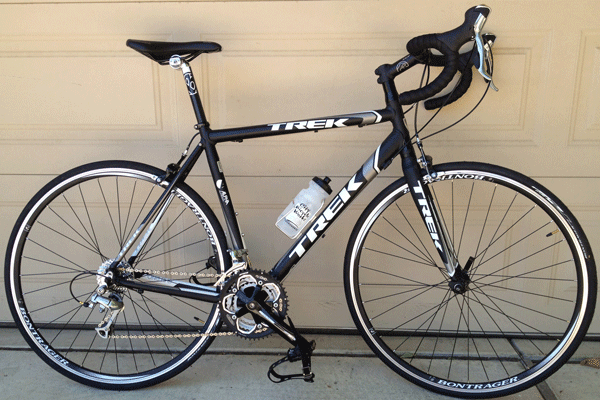 In the last decade bike manufacturer's noticed that most people interested in a fancy bike don't necessarily want to race on it. The new sport bikes are nearly identical to their racy cousins, but their geometries are tweaked to provide a less aggressive position. Often sold with aluminum frames and maybe carbon on the deluxe models, this type of bike is the most appropriate for the enthusiast biker who wants something fast and light.
Key characteristics:
drop style handlebars
threadless headset
relaxed road bike geometry
threadless headset
shifters integrated with brakes
700C wheels
aluminum or carbon frame construction
7 to 11 cogs in the cassette
130mm rear hub spacing
Hybrid/Commuter Bike
The commuter bike really came into its own in the last couple decades, mixing relaxed and upright geometries with modern components and light alloy frames. Some are more perfomance-specific than others, with fancy shifters and wheels, while others are decidedly more utilitarian. These bikes often have room for baskets and racks, able to conveniently carry your locally-sourced fruits and vegetables to your vegan potluck.
Key characeristics:
aluminum or steel frames ready to accept all sorts of doodads like fenders, racks, baskets, and kickstands
700C wheels with wide tires
upright frame geometry
comfortable handlebars
mountain bike-style trigger shifters or single-speed gear
130 or 135mm rear hub spacing
Track Bike
Modern track bikes used for racing typically reflect advances in aerodynamics research and new materials, but many single-speed and fixed-gear bikes offered to the everybro/everybabe are very reminiscent of their steel forefathers. Track-style bikes recently gained in popularity due to their simplicity, durability, and low cost. These bikes are usually associated with having a fixed-gear, meaning that the pedal and the rear wheel are directly connected, and whenever the wheel moves so will the pedals - no coasting allowed. Before buying one, the Bro suggests developing a taste for ironic domestic beers and trading your spandex in for tight jeans. Cigarettes and gourmet coffee a bonus.
Key characteristics:
track-style rear ends to hold the rear wheel
fixed-gear or single-speed
no brakes, a front brake, sometimes front and rear brakes
bull horn or track-style drop handlebars
700C wheels
120mm rear hub spacing
Touring Bike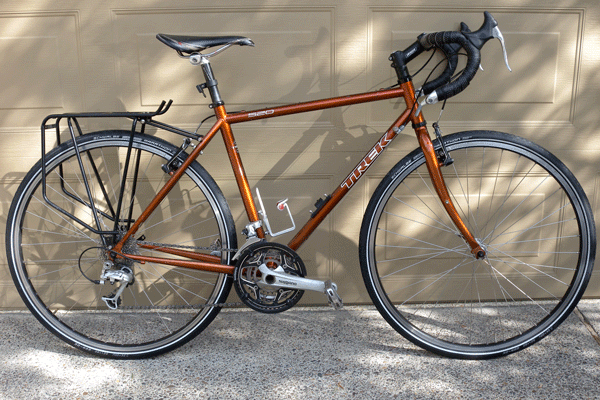 Newer touring bikes usually have steel construction due to it's ruggedness and weight-bearing ability, but some manufacturers offer frames made of beefy aluminum. They have mountain-bike style brakes of one sort or another and often have modified handlebars for more hand positions. Many people like to use a touring bike as their do-everything bike because of their ability to take racks and fenders while retaining road bike geometry.
Key characteristics:
drop-style or comfort-specific handlebars
mountain bike-style brakes
special fittings to accommodate racks and fenders
a longer wheelbase for more stable descents
three chainrings on the crank (mountain-style)
a more upright riding position
shifters mounted on the down tube or on the end of the handlebars
700C wheels
130 or 135mm hub spacing
Cruiser
The coelacanths of the bike world, the cruiser remains virtually unchanged in the past 400 million years. Notable changes are nicer paint, lighter wheels, and updated brakes. And yet, they remain nearly as heavy as ever. The Bro does not recommend riding them on anything steep unless you have no fear of acute tendonitis or live on a strict diet of Muscle Milk beverages.
Key characteristics
26-inch wheel
heavy, curvy steel frames
coaster/backpedal brakes or possibly mountain-bike style brakes
saddle built to accommodate one's entire butt
real tall and wide handlebars
nice big pedals
Cyclocross Bike
The outdoorsy cousin of the road bike, the cyclocross bike accommodates wide and knobby tires and has some type of mountain bike brake. Models range from being race-oriented to commuter-oriented, with the commuter models having areas to install racks or fenders. They display great variability in types of shifters and frame construction. A great do-all bike.
Key characteristics:
drop-style handlebars
mounain bike-style brakes
threadless headset
road bike geometry
700C wheels with wider tires
130mm, 132.5, or 135mm rear hub spacing
Cross Country Mountain Bike
The typical modern mountain bike, the cross country or XC bike was designed to be raced or ridden on trails. They are typically the lightest of the mountain bikes and usually include only a front suspension fork. Their frames facilitate riding on varied types of terrain, both uphill and downhill, and are the most agile of the mountain bikes. Because they lack a rear suspension they are often called "hardtails."
Key characteristics:
flat handlebars
26 or 29-inch wheels
threadless headset
front suspension with 80mm to 100mm of travel
aluminum construction and carbon on the deluxe models
135mm rear hub spacing
Downhill/Freeride Mountain Bike
Downhill and freeride bike typically have full suspensions and a large amount of travel to handle big drops. With both the front and rear suspensions, they are commonly called "soft tails." Downhill bikes may be lighter than their freeride cousins, but the freefride bikes make up for it in slightly beefier construction. These bikes are on the heavy end of the bike weight spectrum, and may have minimal gearing as they rely on gravity to get them moving.
Key characteristics:
flat handlebars
26- or 29-inch wheels
threadless headset
aluminum construction
short bulky stems
front and rear suspension with 180mm to 200mm travel
slack head tube angles
Enduro/All-Mountain Bike
These bikes are designed to be a mix between the cross country bikes and downhill/freeride bikes described above. As it is an intermediate style of bike, they can be ridden on the most varied types of terrain, performing well on steep descents and light enough to be ridden back up the other side of the hill if you make it down safely. They are usually "soft tails" with a front and rear suspension, and weigh somewhere in between the other two styles of mountain bikes described above.
Key characteristics:
26- or 20-inch wheels
threadless headset
aluminum construction
front and rear suspension with around 150mm of travel
BMX Bike
Modern BMX bikes have changed little from their predecessors with the exception of moving to a threadless headset system. Lighter frames and wheels have appeared that are made out of aluminum, though steel is still the most common frame material. Modern brakes also offer enhanced stopping power – but really – who needs brakes?
Key characteristics:
20-inch wheels
threadless headset
tall handlebars
pegs on trick-specific frames
tall handlebars and squat frames
rear or no brakes