Welcome to the Bike Bro's School for Gifted Youngsters - it's time to get your learn on. Although appreciating the color pink and cold beverages will take you pro, all you've really got to do to be a bike bro or a bike babe is ride safe, know your local laws, and read the sections below.
Bicycle Anatomy 101
Get familiar with what you are looking at and all the appropriate lingo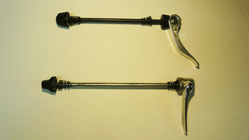 Quick Release Skewers
Knowing how to use these is as crucial to your safety as wearing a helmet
Quick Release Road Brakes
If you have a road bike, read this!
How to Lock Your Bike Up
Learn about how to keep your bike safe from thieves